Laboratory of Virology and Infectious Disease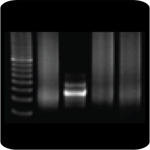 PCR-amplification of normal B cell DNA gives a polyclonal smear. B cells derived from the activation of a single clone show only one band of DNA.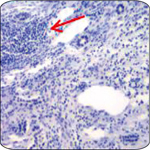 B cells and T cells infiltrate the liver during HCV infection. A lymphoid aggregate is indicated with an arrow.
Immunology
HCV evades host defenses and establishes a persistent infection in approximately 80% of infected individuals. Research Associate Professor Lynn B. Dustin leads our investigations into how HCV responds to environmental pressures, such as the immune system and antiviral drugs. In chronically infected patients, HCV not only avoids clearance but may also manipulate immune cells leading to additional pathologies. B cells may become abnormally activated, producing high levels of antibodies that can accumulate and lead to mixed cryoglobulinemia. The possibility that B cells are polyclonally activated, or even infected, through their expression of an important HCV entry factor, CD81, has been proposed. In contrast, we have found no evidence that primary or cultured B cells can be productively infected with HCV. Furthermore, we have found that B cells are not expanded indiscriminately, but that certain B cells are specifically activated. The antigen responsible for this activation is not known, but may be related to components involved in autoimmune disease. Ongoing research aims to understand the mechanisms by which HCV disrupts and escapes from the immune response.
Rapid evolution of the HCV genome through its error-prone replication helps the virus to evade host defenses, as well as to overcome antiviral drugs. We are investigating the mechanisms by which HCV develops resistance to antiviral compounds, and the cost that these adaptations have on the virus when the drug is removed. Understanding how HCV behaves in the face of specific inhibitors is a key step towards moving new drugs into the clinic.
Further reading
Marukian S, Jones CT, Andrus L, Evans MJ, Ritola KD, Charles ED, Rice CM, Dustin LB. Cell culture-produced hepatitis C virus does not infect peripheral blood mononuclear cells. Hepatology. 2008 Dec;48(6):1843-50
Charles ED, Green RM, Marukian S, Talal AH, Lake-Bakaar GV, Jacobson IM, Rice CM, Dustin LB. Clonal expansion of immunoglobulin M+CD27+ B cells in HCV-associated mixed cryoglobulinemia. Blood. 2008 Feb 1;111(3):1344-56.
Dustin LB, Rice CM. Flying under the radar: the immunobiology of hepatitis C. Annu Rev Immunol. 2007;25:71-99.