Kv1.2-2.1 Crystal Structure
---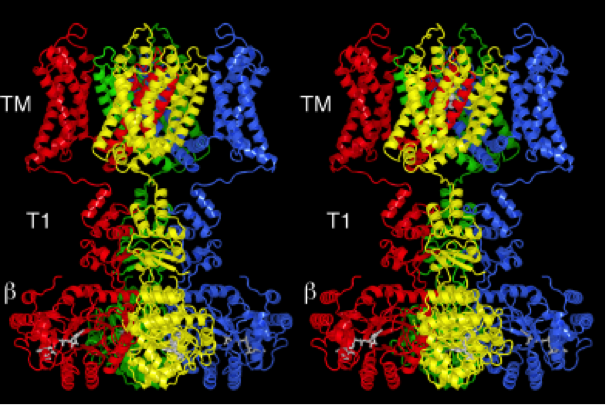 Overall structure of the channel-β subunit complex. A ribbon representation from the side with the extracellular solution 'above' and the intracellular solution 'below', shown in stereo. Each subunit of the channel is colored uniquely. The β subunits are colored according to the channel subunit they contact. The NADP+ cofactor bound to each β subunit is drawn as gray sticks. TM indicates the integral membrane component of the complex.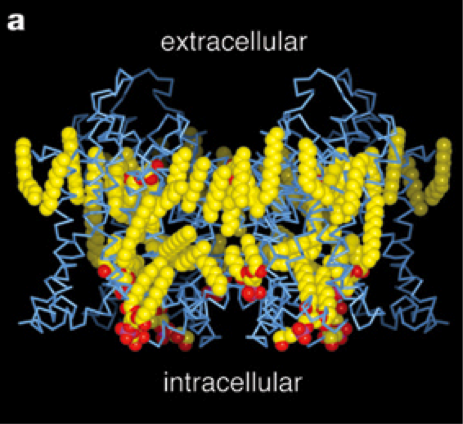 Side view of the transmembrane region showing lipid molecules (CPK representation, coloured according to atom type: yellow, carbon; red, oxygen; magenta, phosphorous) and the channel (blue α-carbon trace)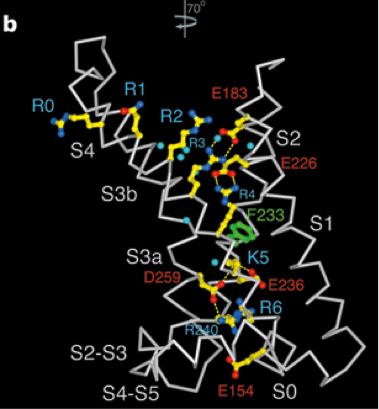 Voltage sensor and S4–S5 linker helix (white -carbon trace) viewed from the pore.
Long, S., Tao, X., Campbell, E.B., MacKinnon, R. (2007). Atomic structure of a voltage-dependent K+ channel in a lipid membrane-like environment. Nature, 450, 376-382. doi: 10.1038/nature06265