Thermal excitation of the mechanotransduction apparatus in hair cells
Although the hair bundle of a hair cell is normally deflected by mechanical stimuli, we found that irradiation of a hair cell from the bullfrog's sacculus with ultraviolet light at wavelengths near 400 nm causes rapid motion of the bundle toward its tall edge. This movement is associated with the opening of mechanotransduction channels and disappears when the tip links are disrupted. We localized the absorptive element responsible for the motion to the region directly below the hair bundle and measured an action spectrum similar to the absorption spectra of several cellular constituents found in mitochondria. Temperature measurements revealed heating around the site of absorption; direct heating of the hair bundle confirmed that the response to light is mediated through heat. Although mechanical offsets of the hair bundle revealed that heat softens gating springs, it also acts directly to open transduction channels. This study identifies a novel method for hair-cell stimulation and elucidates the previously unexplained sensitivity of auditory organs to thermal stimulation.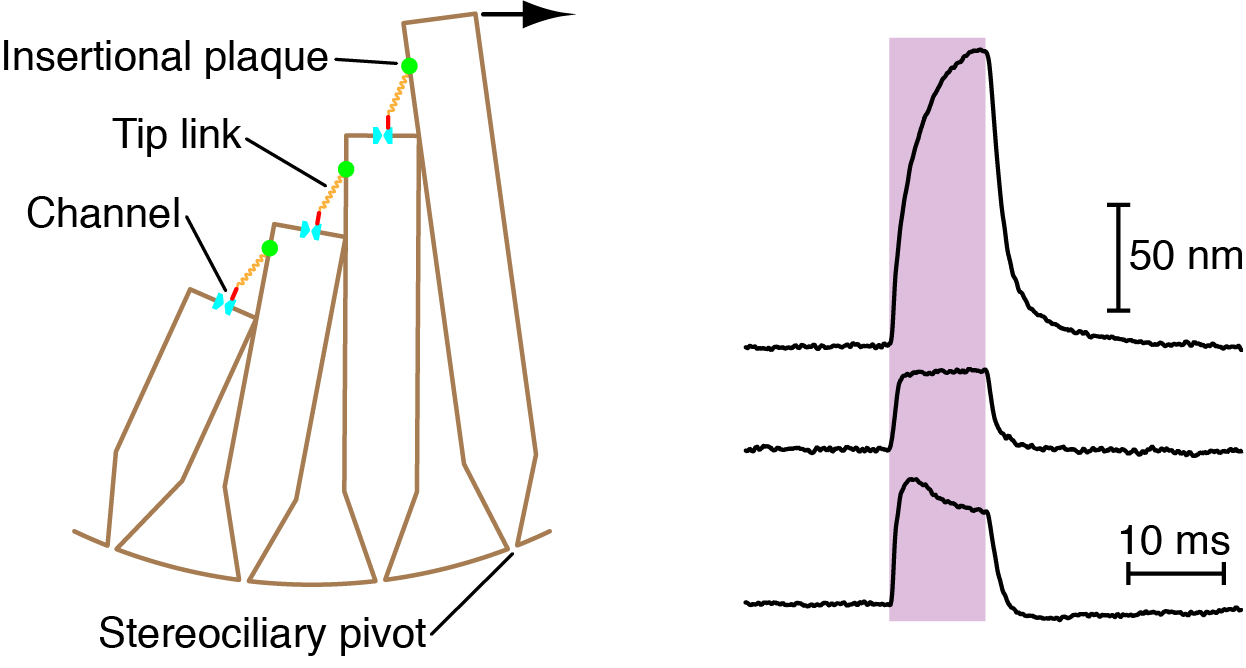 A schematic drawing of a hair bundle (left) depicts a file of four actin-filled stereocilia; the kinocilium is not shown. At the tip of each stereocilium a single tip link inserts upon one or two mechanically sensitive ion channels. Application of a force (black arrow) in the positive direction, toward the bundle's tall edge, tenses the tip links and opens the channels. At the insertional plaque atop each tip link, myosin motors adjust the tension in the link and thus regulate the probability of channel opening. Illumination with ultraviolet light of three different hair cells from the bullfrog's sacculus (right) evokes hair-bundle movements with distinct timecourses. Wavelength, 375 nm; power density, 152 MW·m‑2. The purple band denotes the duration of irradiation.