Elasticity of individual tip-link cadherin molecules
Hair cells, the sensory receptors of the inner ear, respond to mechanical forces originating from sounds and accelerations. An essential feature of each hair cell is an array of filamentous tip links, consisting of the proteins protocadherin 15 (PCDH15) and cadherin 23 (CDH23), whose tension is thought to directly gate the cell's transduction channels. Because these links have been considered far too stiff to represent the gating springs that convert hair-bundle displacement into forces capable of opening the channels, the gating springs' identity and mechanism of operation remain central questions in sensory neuroscience. Using a high-precision optical trap, we show that an individual monomer of PCDH15 acts as an entropic spring that is much softer than its enthalpic stiffness alone would suggest. This low stiffness implies that the protein is a significant part of the gating spring that controls a hair cell's transduction channels. A PCDH15 molecule is unstable under tension and exhibits a rich variety of reversible unfolding events that are augmented when the Ca2+concentration is reduced to physiological levels.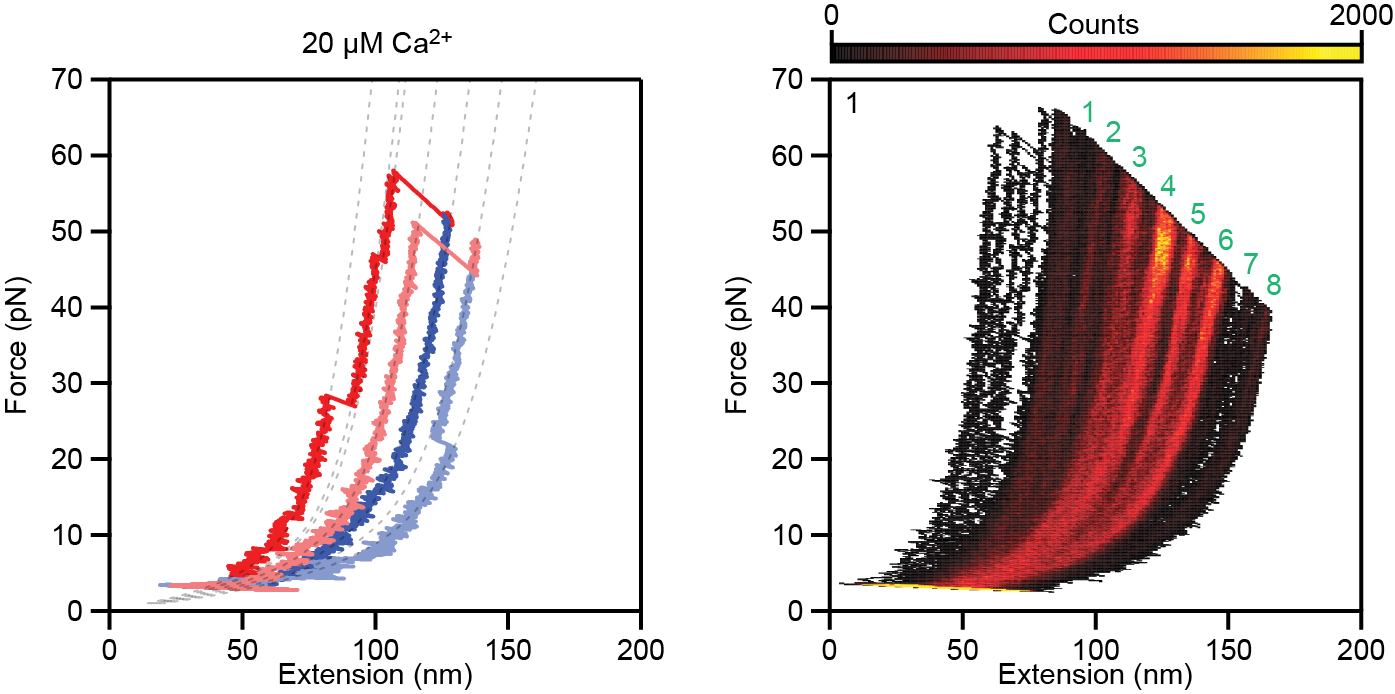 Left: Force-extension measurements of a single PCDH15 monomer show the molecule's behavior during two cycles of extension (red) and relaxation (blue). The response at a Ca2+ concentration of 20 μM includes the unfolding of entire cadherin domains. Right: A heatmap, which displays multiple cycles, illustrates the contour lengths of the tethered molecule as an average over both extensions and relaxations. Prominent features are labeled as states 1 through 8, in which state 1 corresponds to the fully folded protein and state 8 results from the unfolding of three cadherin domains as well as one smaller structure.