Control of a hair bundle's mechanosensory function by its mechanical load
Hair bundles, the mechanosensory organelles of the internal ear, subserve different functions in various receptor organs: they detect oscillatory stimuli in the auditory system but transduce constant and step stimuli in the vestibular and lateral line systems. We found that a hair bundle's function could be experimentally by adjusting its mechanical load, which was delivered by attaching the tip of a flexible glass fiber to the bundle's top and using a piezoelectric actuator to displace the fiber's base. We used a real-time processor that compared the bundle's actual position with that specified by a command signal and then provided feedback to the actuator to minimize the difference between the two. By adjusting the strength of the system's feedback and the commanded position, we independently manipulated the load stiffness and the constant force. We demonstrated that the motion of a single hair bundle can resemble that of a bundle from the amphibian vestibular system, the reptilian auditory system, or the mammalian auditory system, demonstrating an essential similarity of bundles across species and receptor organs. These observations also revealed a general principle that may be utilized by both biological and artificial systems: by adjustment of only a few key parameters, a nonlinear system can be controlled to serve many different functions.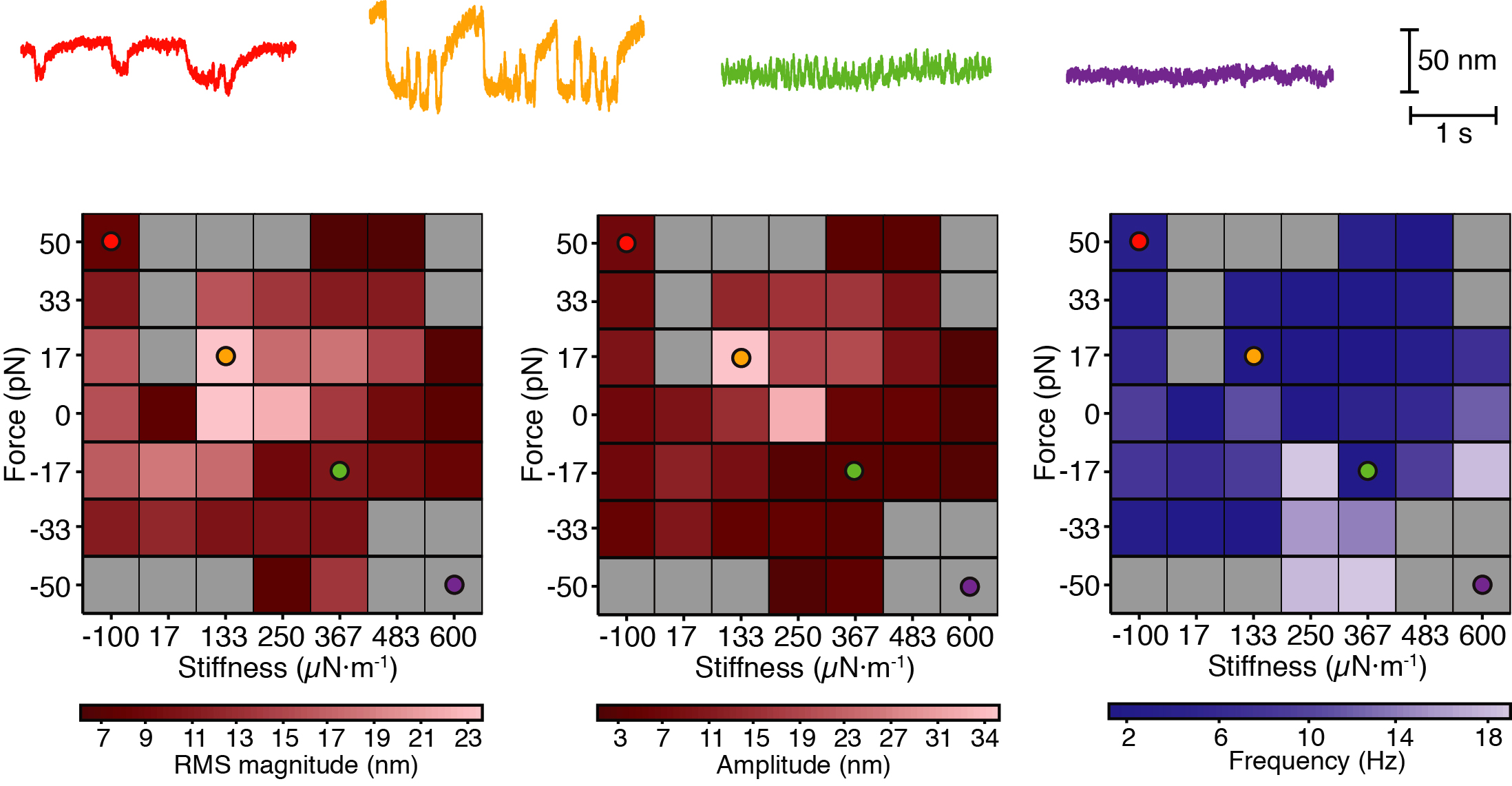 In the upper panel, the oscillations of a small hair bundle change in character as the effective stiffness of the stimulus fiber rises from left to right. The experimental state diagram at the left shows the behavior of the same bundle for various combinations of load stiffness and constant force. Within the ruddy locus of spontaneous oscillation, color intensity represents the root-mean-square (RMS) magnitude of oscillation. The colored circles in the associated panels signify the operating points at the top. The gray region corresponds to quiescent operating points. In the middle state diagram the color intensity encodes the bundle's amplitude of oscillation. The final state diagram portrays the frequency of oscillation for various combinations of load stiffness and constant force.