Elastic force restricts growth of the murine utricle
Dysfunctions of hearing and balance are often irreversible in mammals owing to the limited ability of the inner ear to proliferate and replace lost sensory receptors. To determine the molecular basis of this deficiency we have investigated the dynamics of growth and cellular proliferation in a murine vestibular organ, the utricle. Based on this analysis, we have created a theoretical model that captures the key features of the organ's morphogenesis. Our experimental data and model demonstrate that an elastic force opposes growth of the utricular sensory epithelium during development, confines cellular proliferation to the organ's periphery, and eventually arrests its growth. We find that an increase in cellular density and the subsequent degradation of the transcriptional cofactor Yap underlie this process. A reduction in mechanical constraints results in accumulation and nuclear translocation of Yap, which triggers proliferation and restores the utricle's growth; interfering with Yap's activity reverses this effect.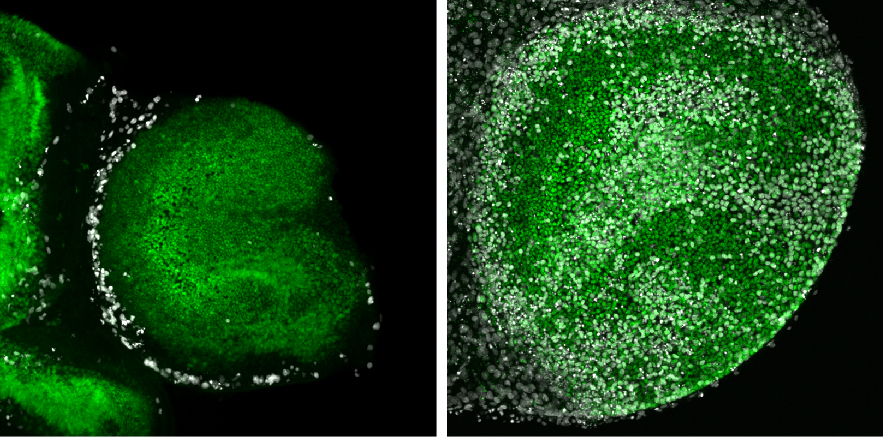 Surface views of utricular sensory epithelia after 84 hr in culture demonstrate the effect on the utricular area of the elastic medium surrounding the developing inner ear. When grown in a relatively stiff gel of Young's modulus 640 Pa, the epithelium reaches the size ordinarily attained in vivo (left). Relieving compressive forces by growth in a 40 Pa gel (right) allows Sox2-positive supporting cells (green) to reenter the mitotic cycle throughout the sensory epithelium, as demonstrated by the incorporation of EdU (white). As a result, the utricular sensory epithelium doubles in size and many new hair cells differentiate.